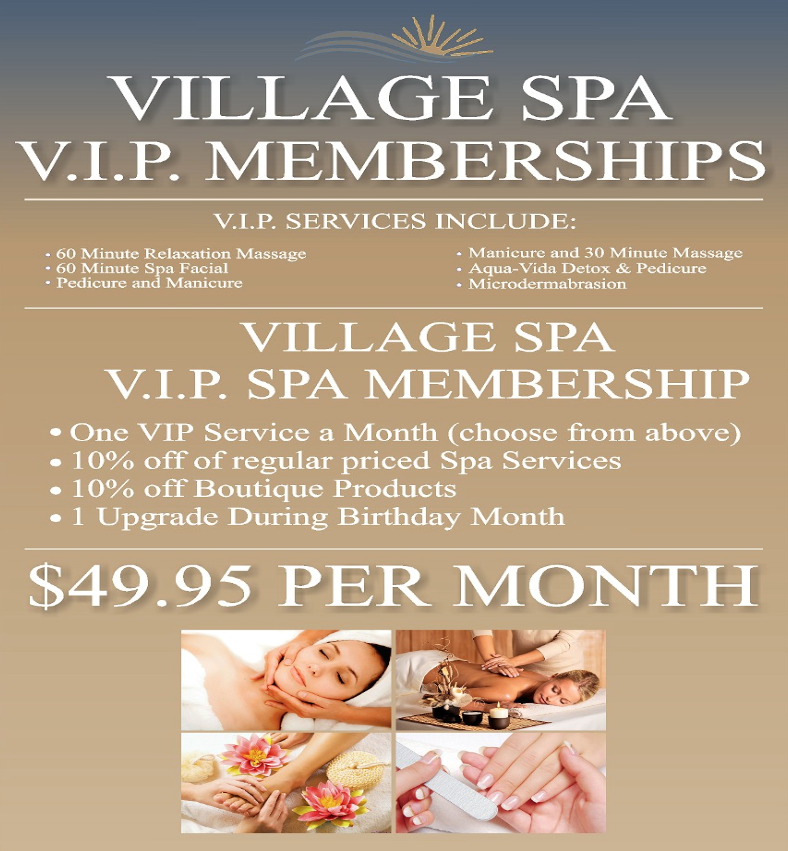 Enjoy a Village Spa Service every month for one low price of $49.95. Spa Club memberships are for 6 or 12 Month Plans. Month Plans have a $29.95 sign-up fee or (0) Down for all 12 Month Plans. All billing is done on the 1st of each month through your Debit, Credit Card, Saving, or Checking Account. See our front desk staff for all the details or call 276-647-1680. 
In addition to saving each month, we have more benefits for our Spa Club Members: 
Bring a guest and they enjoy 10% saving on their service.
10% Off additional services and upgrades. 
Free Upgrade on your Birthday Month, choose from following:
Free Hot Stones or Aromatherapy with your Massage
Free Brow Wax with a Spa Facial or any Waxing service.
Free Special Scrubs and Lotion when you book A Pedicure or Manicure. 
Choose from the following. One Service per Month:
 60 Minute Massage
60 Minute Spa Facial
Spa Manicure and Spa Pedicure
Brazilian Wax ( Ladies only)
Aqua-Vida Detox and Spa Pedicure
Microdermabrasion
Bleach Bright Teeth Whiting 
* All Spa Club Members can upgrade any same day service and save an additional 10%. Gratuities are not included in Monthly Pricing of $49.95.